CRGO Lamination and Cores
KRYFS Power Components Ltd. is one of India's leading manufacturers of transformer core lamination having a manufacturing capacity of over 50,000 MT per year. We specialize inCut to size Laminations for transformers from 11 KV class to 1200 KV class, Built-up/Assembled Cores up to 50 MT, Core & Coil Assembly up to 50MT, Amorphous Core, Toroidal Cores, Unicores & Current Transformer (Active Part).
KRYFS is a supplier of CRGO Lamination to reputed transformer manufacturers in India like Hitachi, Bharat Bijlee Ltd., Indotech, TNR, ECE, and Bharat Heavy Electricals Ltd., and exports its products to more than 40 countries worldwide.
KRYFS is an approved CRGO core supplier to POWERGRID Corporation of India for 765 KV Class rating and supplied laminations cores for several projects of POWERGRID for Transformers & Reactors of 765 KV & 1200 KV along with HVDC jobs.
KRYFS operates from its state-of-the-art design and manufacturing facility based in Silvassa, leveraging best-in-class processes and technology. Our manufacturing facility is equipped with modern manufacturing and testing facilities, which include 10 Automatic Cutting Lines mainly from GEORG & testing equipment from BROCKHAUS, Germany. Moreover, KRYFS is the only CRGO lamination manufacturer in India to have NABL accreditation for the Testing Laboratory and we ensure dimensional accuracy through MORA German makes scale to measure high precision linear measurement.
Always Putting Values Above Business
KRYFS manufactures transformer laminations for transformers from 11 KV to 1200 KV class using Cold Rolled Grain Oriented (CRGO) steel imported from Japan, U.S.A. , U.K., Korea and Russia, in various grades (Conventional and HiB). KRYFS process laminations with a high degree of precision for transformers from 10KVA/11KV to 1000 MVA/1200 KV class as per customer specification on designs.
Specifications:
Transformer core lamination/cut to size lamination for the power and distribution transformers. Width up to 1000mm and length up to 5000 mm with auto stacking facility
Strip lamination for instrument transformer industry
Lamination processing capacity – 50,000 Metric Tonnes/annum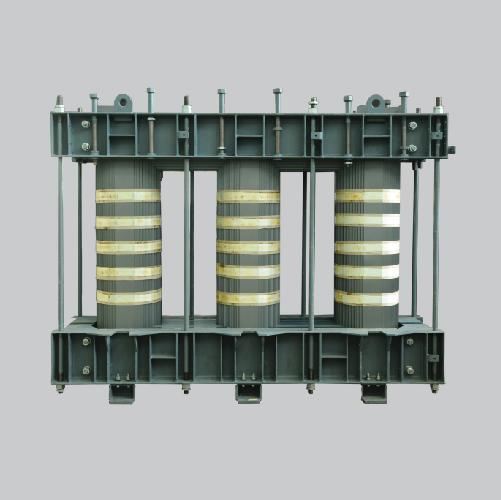 Built Transformer Core & Core Assembly
Built Transformer Cores and Core frame parts up to 50 MT. Tested for No Load Losses (NLL), appropriately packed and ready for insertion of LV and HV coils.
KRYFS offers the complete range of CRGO Slit Coils in sizes ranging from 10 mm upwards and thickness ranging from 0.23 mm to 0.30 mm in various Conventional and Hi-B & Domain Refined grades. These are slitted on an automated GEORG CNC machine to attain minimum burr on the slitting edges of the coils, which is typically less than 5 microns.
We manufacture these products in line with the global quality standards and norms, per IEC 60404-8-7.
Round and rectangular Torroidal cores having the highest accuracy. Suitable for low, medium and high voltage CTs, PTs and Transformers, all the cores undergo a stringent quality check at low induction values for a specific purpose and high accuracy applications before dispatch, Post annealing in 100 % Nitrogen atmosphere with SCADA controlled furnaces at the state of art factory of KRYFS, unit 3, in Kherdi (DNH) of weight from 10gms to 200 kgs.
Features:
Winding of Wound Cores as per customer specifications.
Annealing in SCADA controlled the Nitrogen atmosphere for 18 to 24 hours (at 800 C).
100% of our cores are tested before dispatch so our customers get only those cores in line with the guaranteed specs.
Torroidal strip wound cores form a virtually air gap free magnetic circuit and constant cross section and generally offer magnetic properties very near to that of the raw material.
Varnishing and colour coding is done as per our customer specification.
Wound/ Unicores are manufactured for single and three phase transformers as per customer specification.
Salient Features:
Customized design
Compact construction
NLL are lower than stacked core
Low winding time
Quick assembly
We currently manufacture active part of CT upto an outer diameter of 1200mm and weight 150 kgs on (V & C) double headed copper winding machine (German Technology), one of its kind in India. Our manufacturing range includes motor class CT, Protection class CT & PS/ PX class CT. The CTs are tested on Automatic CT test system (Eltel make, a Canadian technology). The following tests are performed on CTs: Accuracy test, knee point voltage inter turn test, resistance measurement test, composite error test, HV test.
Download our CRGO Brochure Here
Download the offline version of all our offerings in CRGO business, feel free to contact us for any queries